Happy 200th Birthday Mr. Lincoln!
A short Autobiography written by A. Lincoln
Autobiography
Humble beginnings for our greatest President.
Earnest, faithful, just, serious. That is how I think of President Lincoln.
Happy Birthday to you.
*****
Lost
Discuss.
***
Life on Mars
I am sorry to say Life on Mars has strayed from it's interesting theme and music and is now just a cop show with light 70's jokes.
A big change.
While I think Jason O'Mara is a terrific actor....I don't think he can support the disappointing direction the show has slumped off to.
Bring back the seventies music. Bring back the hippie neighbor. Bring back the links to the present.
Or this show will be cancelled. I can feel it.
****
Top Chef
Last meal Challenge.
If you had to choose a last meal, what would it be?
Surf and Turf :o)
Nice big lobster.
Nice tender filet.
Tons of butter for dipping.
Tons of béarnaise.
Big piece of cake with Lots of frosting.
Onion rings (thin) and hash browns with onions.
Garden Fresh Tomatoes with salt and pepper.
And a Diet Dr. Pepper with ice.
Last meal doesn't matter how many calories.....
sweet!
****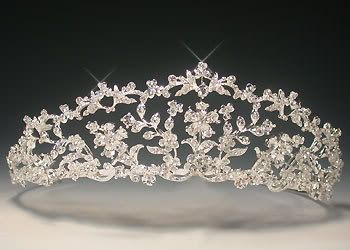 This is not the kind of crown I am getting today.
After working for Mrs. Shubert this morning, and staying late, I have my crown appointment back in Madison at 1:00.
Then it's pick up Katie at 3:00 and parent/teacher conference at 3:45.
I am such a slug I really don't enjoy this kind of day.
I'd much rather be reading your comments.
But what cha gonna do other than serve the Lord with gladness?
And seriously, just look at this happy little face I get as a daily reward.
Thanks for waiting....
say a little pray for my dentist at 1:00...
I just really want this crown to be done right.
(My last one with a different dentist was a disaster.)
Encourage one another,
Donna