Jenni
was sweet enough to think of me for this award. She has a lovely way with words and made me sound really wonderful on her blog.
Like I said, she has a gift :o)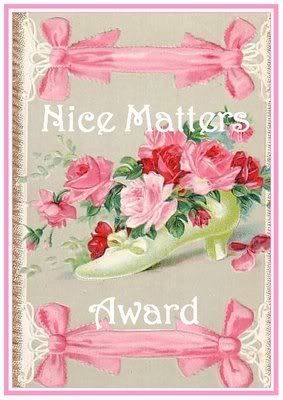 Nita @ Red Tin Heart
thought I deserved this award.
And ya know what, I agree, nice does matter.
She was pretty nice to grant me the Nice Matters Award!
Thanks blog-sistahs!
Thank you for this wonderful honor.
Dang.
Forgot my crown.
Be right back.
There.
Got my crown on now.
Thank you, thank you very much.
I hope to live up to your high and kind praise.
Caffine has absolutely no effect on me.
Not a bit.
If I stand up real straight I'll look better.
Nice.
That worked like a charm.
I am SO not an actress.
Suspicious is not what I was going for.
I'm really not a British woman.
Really.
I just play one in my living room.
Good showwwwwwwwww.
Oh, I'm having a good time here.
Hope you are too :o)
Encourage one another,
Donna
p.s. That's what my hair looks like if I don't blow it dry and curl it a bit.
The glasses are my cheaters. They are a 1.75.
I think I will be getting bifocals of some sort.
Is there a younger name for bifocals?
Do I have to wear a chain with my bifocals?