Here is a poem to share with those young ladies in your life.
It's written by Ruth Bell Graham.
A Single girls prayer
Dear God, I prayed, all unafraid
(as we're inclined to do)
I do not need a handsome man
but let him be like you;
I do not need one big and strong
nor yet so very tall,
nor need he be some genius
or wealthy, Lord, at all;
but let his head be high, dear God,
and let his eye be clear,
his shoulders straight,
whate'er his state,
whate'er his earthly sphere;
and let his face have character,
a ruggedness of soul,
and let his whole life show,
dear God,
a singleness of goal;
then when he comes
(as he will come)
with quiet eyes aglow
I'll understand that he's the man
I prayed for long ago."
~Ruth Bell Graham
Hum? Odd little fifth leg :o)
Aren't those adorable outfits?
Emma's very dear friend Marie is here for a visit!
She is a piano major at college in Arkansas.
She is so sweet and smart and lovable and fun.
For some reason Marie brings out the silly in Emma.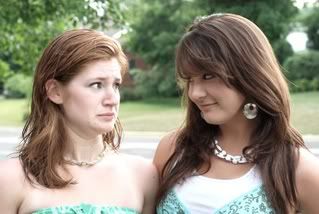 **********
Happy Father's Day to daddy's far and wide!
You have an important job.
We're depending on you! :o)
Encourage one another,
Donna