The seniors after their last game.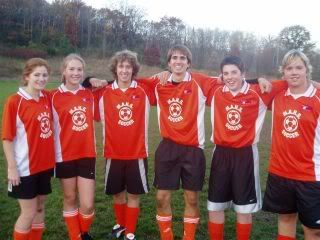 Actually, the boys get to play in a National Homeschool
soccer Tournament in Omaha next week.
No girls allowed.
(Emma has been invited to play in the National Homeschool Volleyball Tournament in Omaha...so that should be fun...and she will get to watch the soccer team too!)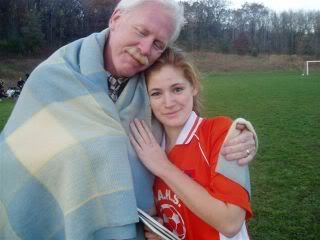 A big hug and kind word from the proud dad.
Emma would love to continue to play in college...but we don't know if that will work out. We. shall. see.
********
Katie and I are off to the country today to visit our friends at Fairview Farm;
Jean in Wi.
,
Bethany
, Farmer Napp, the boys....and the cats.
It's been too long between visits.
I'll take pics :o)
But really....Jean takes the most wonderful pictures of their farm over at her website....take a peek at hers.
********
Nothing Gold Can Stay
Nature's first green is gold,
Her hardest hue to hold.
Her early leaf's a flower;
But only so an hour.
Then leaf subsides to leaf.
So Eden sank to grief,
So dawn goes down to day.
Nothing gold can stay.
Robert Frost
Enjoy the gold...and the extra hour of sleep :o)
Encourage one another,
Donna