Well...that was a little bit scary.
Looking at the blank page was odd. I was finally able to do a test...and the republishing seems to have fixed what ever ailed dear old blogger.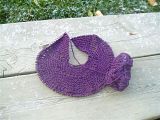 Here is something much more pleasant to look at than an empty blog screen.
It is called Loganberry.
And yes, that is snow.
Of course, the yarn shop does not have 13 skeins of this color...or 13 skeins of any color, for that matter, so I may have to order it from Schoolhouse Press. And you know what that means. Different dyelot. Do over.
But that's okay. I am experimenting with the pattern and wanted to test the color before buying so much yarn.
I do like the color very much. It is rich and pretty and not boring.
The yarn is called Jamieson & Smith.
Shetland Double Knitting yarn. It is a little rough at first feel...but it softens up as it is knit.
***************
I Tivoed Project Runway last night. Anyone watching that one?
I was amazed to see Laura and her five children.
Her designs are my favorites!
But, accusing Jeffery of cheating.
Pretty low.
I'm looking forward to next weeks finale.
Gotta run. We are in the middle of school and Katie is waiting for me to play Enchanted Forest with her.
ttfn
Encourage one another,
Donna