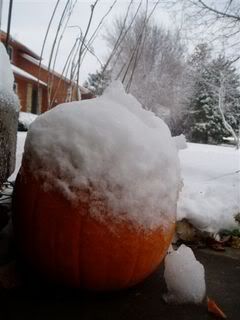 On Wednesday it was 70 degrees here in Wisconsin.
Yesterday afternoon we had our first WINTER STORM WATCH.
Our weather people are sooooo dramatic!
I, thankfully, just got to watch it all from the warmth and comfort of the family room.
Big, fat, floaty flakes.
The driving in it...now there's the rub.
SNOW
The fenceposts wear marshmallow hats
On a snowy day;
Bushes in their night gowns
Are kneeling down to pray-
And all the trees have silver skirts
And want to dance away.
~Dorothy Aldis
~My precious Dorothy Aldis library.
Who is your favorite children's poet?
I love Aldis and Stevenson.
Encourage one another,
Donna