Omaha or Bust
The National Homeschool Volleyball Tournament is being held in Omaha this weekend.
Emma left minutes ago.
Katie and I will follow tomorrow and dh will come when he is done with work(on an undisclosed and later date.)
Emma is staying in at the hotel with the soccer families.
(The National Soccer Tournament is in Omaha, too.)
Katie and I will be staying with Matthew!
I'm looking forward to a nice visit with the boys and Melinda and perhaps meeting Shelby.
Katie can't wait to see Melinda and her new kitten.
And of course, her big brothers :o)
What a different life little Katie has with siblings who are so much older than her.
It is sure to mold her personality in some unique ways.
Don't you think?
Here is the website for the Volleyball tournament.
Nationals
And here a some cute little trick or treaters.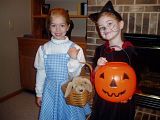 I won't be able to post in the morning so I will leave you with a little something I read last night from Jan Karon's At Home in Mitford;
"Accept, O Lord, our thanks and praise for all that you've done for us. We thank you for the blessing of family and friends, and for the loving care which surrounds us on every side. Above all, we give you thanks for the great mercies and promises given to us in Christ Jesus our Lord, in whose name we pray."
Amen.
Encourage one another,
Donna