Fine Art Friday joins the Friday Feast!
Carol at
Magistramater
came up with a great idea last Friday; To celebrate and share fine art on Fridays.
I love this idea, don't you!
Feel free to join in on your blog.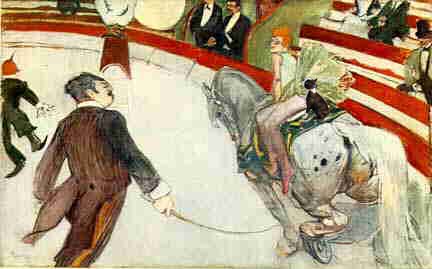 Henri de Toulouse-Lautrec at the Circus
read about the artist here
I have know of Toulouse-Lautrec's art for as long as I can remember...but I didn't start admiring it until we saw his work in person at the Art Institute this Spring.
I became intrigued with his unusual perspective. The way he frames a painting is unique and odd. In person, the hooves of the horse (in the above painting) seem to be coming at you.
Isn't it interesting how only a portion of the ring is captured. Only a portion of the clown and the audience and the ringmaster. No one is complete except for the rider.
Interesting.
Feast Ninety-Eight
Appetizer
What is a word that you use that would not be considered common?
Soup
What theme of calendar do you have on your wall this year?
Salad
What is the age span of the children in your family...and the children in the family you grew up in?
Main Course
Do you care about fashion? What do you especially like to shop for?
Dessert
What is the last beverage you drank?
I purchase a little five dollar calendar every year.
It is put out by the
Dane County Cultural Affairs Commission.
I love seeing the work of our local artists.
Encourage one another,
Donna