Pat's Hat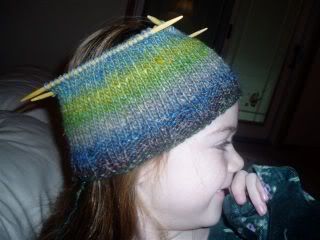 Patrick has been wearing Katie's hat when we walk. It's a bit small!
Don't you think he needs a hand knit hat from his sweetie?
Hats are such a nice project.
You finish knitting before you are tired of knitting :o)
One skein of yarn, a day or two of knitting.
And if you use a fabulous yarn...it is extremely enjoyable!
I mean, look at that yarn!
It's so gloriously Monet-ish.
It was actually hard to pick out a colorway that wasn't femmy.
No pick or purple for my hubby.
He recently wore a brown sweater to work...and I tell you...this was a stretch.
And it looked very nice on him.
He is Mr. Blue.
In more ways than one :o)
*******
I don't think I told you, but we have a
Trader Joe's
in Madison now.
I remember a few years ago, on the Well Trained Mind board, people would rave about this product and that product.
Of, course I wasn't paying attention because it didn't matter to me then, but now, I'm curious.
What are your favorite products from Trader Joe's?
I have already chosen a few winners and a few losers.
Can you imagine cookies that no one would eat?
Strange.
And if you have never heard of Trader Joe's.
Imagine an Aldi's priced Whole Foods.
In fact, I don't think they want everyone to know...but the same people own Aldi's and Trader Joe's!
Don't forget to tell me your favorite products!
************
Today starts the last weekend before the last semester of Emma's homeschooling journey. It's been such a joy to be her teacher.
Did I tell you that she was accepted at DePaul University?
It is not her #1 school...but she was accepted and we are proud of her for that.
She is feeling called, more and more, to be a missionary. She has her hopes on Moody Bible Institute.
We shall see what happens.
"I have held many things in my hands, and I have lost them all; but whatever I have placed in God's hands, that I still possess."
Martin Luther
Encourage one another,
Donna