Ah....flowers....
Jan van Os- Flowers in a Terracotta Vase- 1780
Milwaukee Art Museum
I'm glad I was able to take pictures.
I love the vibrant colors. There was a chart beside this painting that listed the flowers used.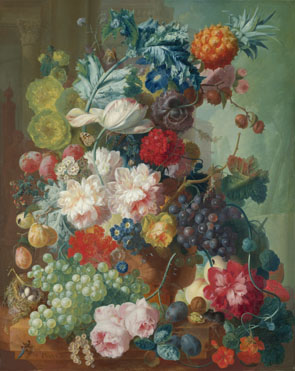 National Gallery.
I did not take this picture.
I would like to tho :o)
Fruit and Flowers in a terracotta vase.
How unusual and odd to place the heavy pineapple on top.
And just imagine how rare a pineapple was in Europe in the 1700's.
Jan van Os.
I am happy to meet you.
Your paintings are spectacular.
Encourage one another,
Donna