Friday Feast
Appetizer
On a scale of 1 to 10 (with 10 being highest) how much do enjoy watching sports on television?
Soup
If you could completely memorize any one work of fiction, which one would you pick?
Salad
What is your favorite breakfast food?
Main Course
Name something fun you can do for less than $10.00.
Dessert
How long does it usually take you to fall asleep?
*************
Happy Birthday, Sis Cindy!!!
You would love Cindy!
She is full of fun!
Have a happy day, Cindy dear!
Cindy is on a holiday.
I know she is enjoying herself.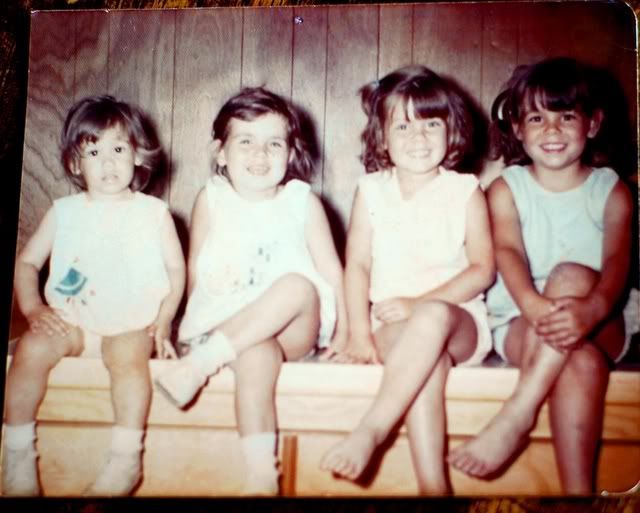 Cindy, cousin Diana, Donna and Sue.
Sitting on a bar in our Rec room.
I'm thinking of Sue this morning too.
She is in New York watching John Mayer preform live, right now.
He is singing, right behind me, right now. (On Good Morning America)
I am watching for Sue.
I told her to wear a funny hat, like a cheese head so I could spot her.
I don't think she did. :o)
John is waiting on the world to change.
**************
I have a photography question.
If anyone knows, please tell me.
Have you seen those cool collages on made on Flickr sites?
The ones where there are, for instance, nine pictures, all stuck together,
three
three
three
They look really cool.
So I signed up for a Flickr account so I, too, could make one of these neat thingys.
And well.
I can't seem to find out how to do it.
Can't even find a spot where they tell you how to do it.
And then there are things called 'storyboards'.
These are three photos in a row (or more).
They are really cool groupings.
I googled 'storyboards' and 'how to make a storyboard'.
To no avail.
If you know how to do either of these actions, please tell me where to go or what to buy.
Thanks :o)
**********
Happy Friday friends!
See you in the comments.
Encourage one another,
Donna