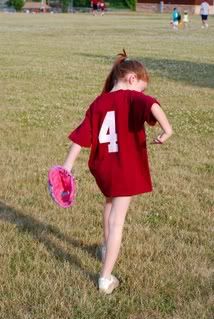 Lookie.
I'm Brett Favre.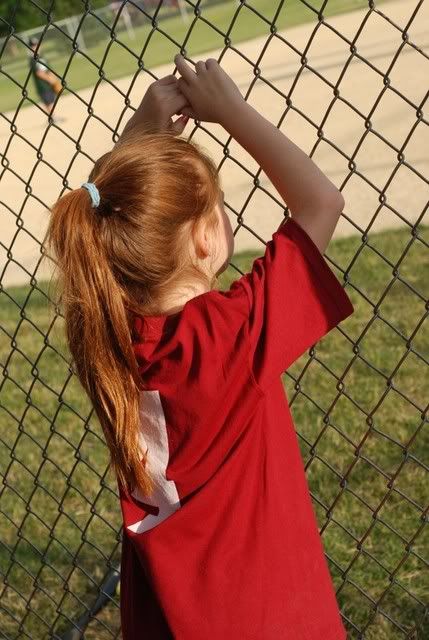 Waiting.
Good friend Carrie.
I'm not quite sure how to get a great face shot with a hat yet.
Her skin sure looks pretty, tho.
Heading for home.
The field is surronded by a pesky fence.
I have to be very bold to get this close to the action.
Katie sure has grown since last summer!
Last year that helmet looked really big,
and it bobbled on her head.
Actually she looked like a human bobble head.
And she ran really funny. Shuffling along.
So her giant helmet didn't fall off.
And most of the time it fell down over her eyes so she ran like a little blind bobble head.
Things are really looking up this year :o)
You should see her hit!
Carrie and Katie are going to keep the girls in the game!
I can see Carrie and Katie playing baseball for a long time.
Baseball does that to you.
It makes you dream a little.
Maybe it's the hot sun...and long pauses.
I see great things in baseball. It's our game - the American game. It will take our people out-of-doors, fill them with oxygen, give them a larger physical stoicism. Tend to relieve us from being a nervous, dyspeptic set. Repair these losses, and be a blessing to us. ~Walt Whitman
************
Look at my cute swimsuit.
I love it.
It fits.
It covers.
Katie is so happy :o)
And that is as close to seeing me in a swimsuit as you'll ever get!
And that's not even me ;o)
And if you think it is odd to buy a swimsuit thru the mail.
It's actually a superb idea.
You miss out on all of the dressing room drama.
***********
What is your favorite sports movie?
Encourage one another,
Donna