The Stoughton Fair and a call from Emma
Emma called again!
She sounded a little weary.
She has been sick. Not terribly, but enough to take her Cipro.
To my total amazement, she is sleeping, well.
I have been losing sleep thinking of her sleeping in steamy India.
But she is not :o)
(losing sleep...only I am losing sleep)
The two men on the trip were very sick.
High, high fevers. Etc.
The team was invited to a wedding.
Only the relatively healthy girls went.
They were considered very special guests.
They were seated in the front row,
asked to be first to do a blessing and first to be seated for the meal.
This is odd to them.
They have come to serve and they are treated like 'rock stars' :o)
The pastor that they are working with will just ask them to jump right in with prayer and the team is expected to speak to small groups on topics they feel strongly about.
Emma said she has spoken about the Holy Spirit and the Love of God.
From what I can tell,
she is filled with joy.
These phone calls are a true, unexpected blessing to us.
Stoughton Pie Contest
Here's my buddy, Lynn.
We take road trips together.
Pie judging.
Sheep and wool festivals.
Church visits.
I prayed for a friend.
This is who God gave me.
Sweet!
We shared this.
It's a cream puff.
Chilled, fresh, Wisconsin cream.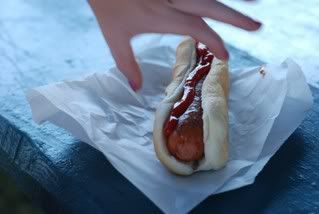 Katie ate this.
And this.
Here's Kris and her daughter Katie right after she came in first in the highly competitive meat pie contest!
Not only was this the blue ribbon meat pie. It went on to 'best in show'.
Of course they don't call it that. That's for dogs.
But anyway, you get my drift.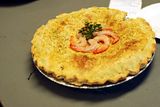 Here is Kris' pie.
It was a seafood pie.
Her very own recipe!
(click right on the picture to make it large.)
We were so happy and proud of Kris.
She's as fun and darling as she looks in that picture.
Her family is big in the Stoughton pie world.
Kris' sister is something of a legend. She wins every year.
But this year Kris was right up there with the experts.
Yay! Kris.
Next year...the moon.
When all the pies have been judged.
And every one is really hungry for a piece of pie,
the pie auction starts.
The bidding starts at $25 dollars.
Here is Kris' report of the auction results;
My "Seafood Supreme" pie sold at the pie auction for $70! And the rest of them sold for around $35 each. Anita and two of her boys even came and watched! Do you remember that pork chop pie with the cut-out pigs on top that my sister's daughter-in-law made? It sold for $145!! And the grand champion blueberry weaved pie (made by a man) sold for $95!
Now doesn't that sound fun!
We missed the auction this year but hope to go back next year!
Lynn is going to bake a pie.
She is inspired :o)
Here is who she will have to impress!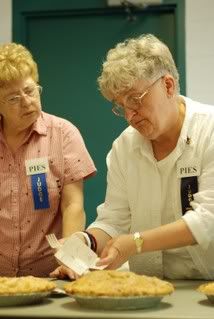 The judges.
The gal in the red shirt went for the flavors.
The gal in the white shirt was all about the crust.
Don't they look like they are right out of general casting?
Small towns,
small midwestern towns,
they offer so much in the way
of quiet, simple pleasures.
Those simple pleasures
are still to be found.
The birds, the baseball,
the clouds and the pies.
The laughs, the tastes,
the colors, the ease.
I wish for you all
simple pleasures :o)
Encourage one another,
Donna