The Wizard of Oz
The play was delightful.
Katie was a very good thespian.
She did not goof up or shove anyone.
I am so proud of her.
Bravo! Bravo!
*************
Emma was at work and Katie was a acting camp, so I took a stroll around the garage yesterday afternoon.
I was looking for something interesting or beautiful.
To tell you the truth, I didn't even know we had these.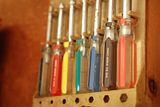 I have a favorite.
Do you?
(If you click on the photo, it gets larger.)
Tweet!
I'm going to spend the weekend enjoying my Katie again.
I didn't like having her gone, all day, every day.
After a long day, she didn't have anything more to give.
All pooped out.
Too pooped out to even give a report of her day.
It was odd. I felt like an outsider.
But she loves her acting camp.
And will do it again next year.
It was part of the deal,
'Behave and you may do this next year.'
And she did.
Encourage one another,
Donna